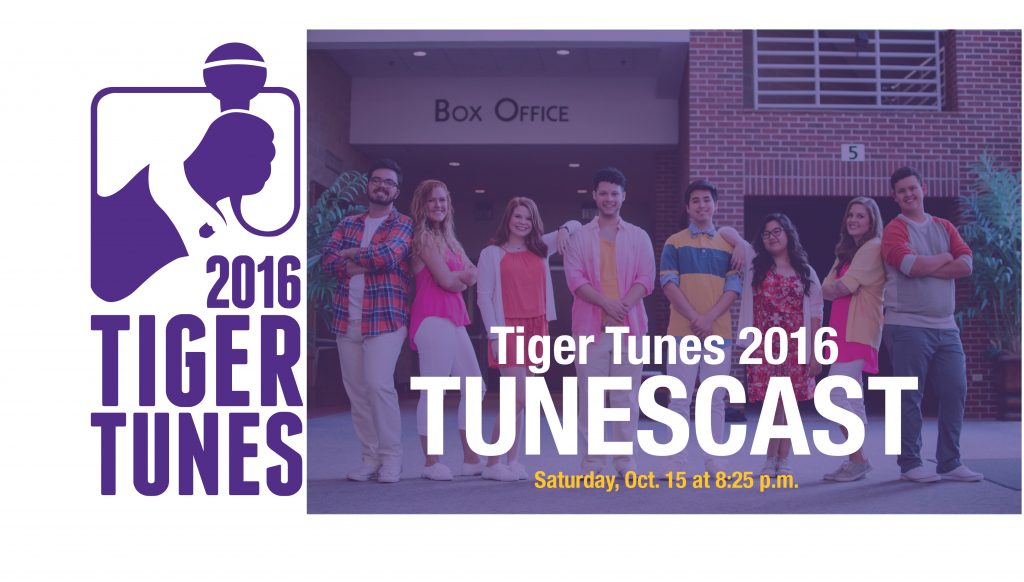 Tunescast 2016 will live stream the final Tiger Tunes show online Saturday, October 15, starting at 8:25 p.m. The entire show will be broadcast, along with exclusive content for Tunescast viewers.  From opening remarks from The Signal's editor-in-chief, Barrett Gay, and online editor, Cimber Winfrey, to behind the scenes interviews, host and hostesses performances, all the way through to the final awards ceremony, Tunescast Live 2016 will have you on the edge of your seat (and when you watch online, it's totally ok to sing and dance along!).
Whether you are unable to make it back home to Ouachita to see the shows this year, or want to check in to see the final awards, Tunescast 2016 is a great way for Tiger Tunes fans from around the world to take part in one of Ouachita's most exciting events! Last year, Tunescast was viewed by more than 7,000 people from 32 countries and six different continents, all tuning in to cheer on their favorite shows. You don't want to miss out!
Tiger Tunes, hosted by the Ouachita Student Foundation, works to raise money for student scholarships through tickets sales and silent auctions. Over the past 38 years, OSF has raised $1.3 million to help students stay at Ouachita.
Giving a tax-deductible donation to OSF for student scholarships couldn't be easier:
Head to Ouachita's Development Office 
Type if the amount you want to give
In the box labelled "specific instructions" type "OSF"