Student Leader Highlight: Dillon Thomas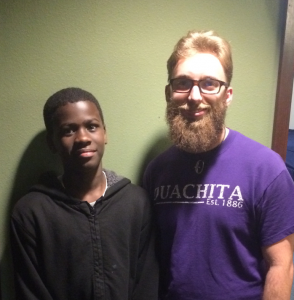 Dillon Thomas is a junior Christian studies and missions major from Keller, Texas. He is the ministry leader of Big Brother/Big Sister, a Campus Ministries outreach program.
"The Big Brother/Big Sister program is a community outreach ministry that is meant to reach the young kids of Arkadelphia," Thomas said. "The Bigs spend at least an hour with their little [every week]. The main point of the ministry is to eventually talk to the kids about God. However, this only comes when a relationship is formed so building a relationship is extremely important and can happen in many different ways. These kids look forward to hanging out with their Bigs every week so this program is meant to focus [on giving] joy to these kids."
For Thomas, this was one of the first organizations he joined at Ouachita.
"I got involved with the Big Brother/Sister program when I was a freshman," Thomas said. "They said that they had a need for guys to step out and mentor a Little Brother so I thought this would be a great ministry for me to join. Then as a sophomore last year, I knew that the CM Leader for the program was graduating so I decided to step up and fill this position which I have thoroughly enjoyed."
Inspiration can come from not only those who are older than us, but also those who are younger.
"I have two little brothers back home who I love and care for," Thomas said. "So when I came to college, I knew that I wanted to be a part of something where I could continue this aspect of being a Big Brother. When I found out about the program and what it does, I was amazed at how much it fit what I was looking to do so I attended the interest meeting and was paired with my little – Tirel Butler. At first, Tirel was quiet but now he has really opened up to me. The relationship that I made with him made me want to become a leader so that I can recruit others to being a part of this great ministry"
However, we are also motivated by the examples we have seen in teachers and mentors that have been a part of our lives.
"Looking back, I can definitely accredit my enthusiasm to wanting to be in the program was in part due to the mentors that poured into me during my time in middle and high school," Thomas said.
Thomas wants to encourage others to be involved with this unique ministry.
"Do not let the fact that you are not a kid person or not qualified (or spiritual) enough to be a Big Brother/Sister stop you. This ministry transforms not only the Little but the Big as well. I am not a kid person in the slightest but I look forward to hanging out with Tirel every week because it is not about him being a kid but him being my little brother. You will get attached to your Little like he/she is part of your family. So if you are interested, don't let anything stop you and please get in contact with me or the other ministry leaders."
To learn more information about the Big Brother/Big Sister program, contact Thomas at tho56229@obu.edu.
by Sarah G. Hays