Askew and Frizzell named to All-GSC Volleyball squad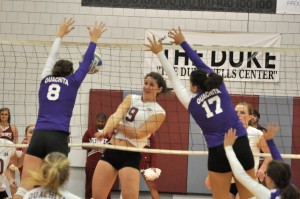 ARKADELPHIA- Ouachita Baptist sophomore Megan Askew and sophomore Allison Frizzell have been named to the 2010 All-Gulf South Conference Volleyball Second Team, officials announced on Wednesday.

The annual honor is the second for Frizzell, who was the 2009 GSC Freshman of the Year. The sophomore libero finished second in the nation in digs per set at 6.86, behind only Tusculum's Caitlin Dean with a 7.02 dig per set average. Frizzell finished the season with 569 digs in 83 sets, leading the GSC and finishing with 1.1 more digs on average than any other player in the conference. Frizzell was named GSC Defensive Player of the Week on Sept. 28, while also earning a spot on the Christian Brothers Invite All-Tournament Team on Sept. 7.
Askew recorded her first GSC annual volleyball award, after leading the Lady Tigers with 201 kills and leading the GSC with 95 blocks for a 1.13 average block/set. The sophomore is a two-sport athlete at Ouachita, earning 2010 GSC Freshman of the Year honors in softball.
Ouachita Baptist finished the season at 14-12 overall, 2-10 in GSC play.