Casey wins again at Bob Gravette Invite; Lady Tigers finish second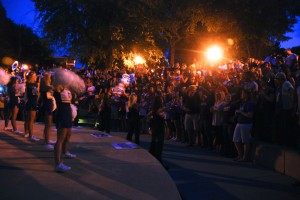 ARKADELPHIA- In what is becoming a trend to the start of her collegiate career, Ouachita Baptist freshman Johanna Casey ran away from the competition in winning the 2010 Bob Gravett Invitation in 20:52 in Arkadelphia on Saturday.
Casey collected the second-straight victory of her career, as the Lady Tigers finished second with 40 points, behind overall team winner Henderson State (31). Arkansas-Monticello rounded out the team scoring in third with 61 points.
Freshman Rebecca Ward followed Casey in fifth place for the Lady Tigers in 22:57, while sophomore Kelsie Wilson rounded out the top-10 for Ouachita in seventh at 23:17. Sophomore Aubree Fry finished in 15th at 25:57, while freshman Parish Reed (19th) came in at 27:40 overall.
Ouachita returns to action on Saturday, Sept. 18 in Magnolia for the Mulerider Invitational at 10 a.m.