Founder's Day Celebrates Ouachita's Beginnings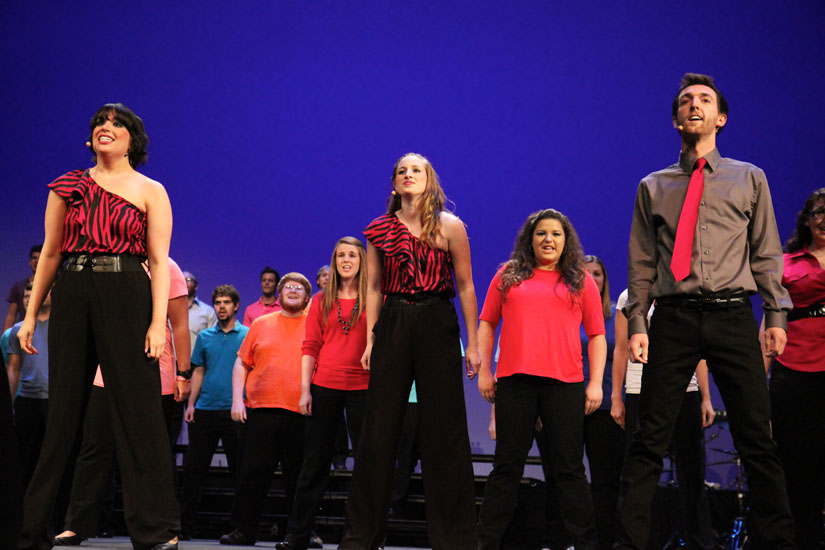 Students perform at the Founder's Day Musical Showcase. (Picture by Nicole McPhate)
September brought beautiful weather and saw students getting back into the world of schoolwork and studying. But something else was brewing around campus; a group of faculty members gathered to plan a momentous occasion called Founder's Day. The committee organized an inventive agenda to make it a memorable day on campus.
Founder's Day was held Tuesday as part of a year-long celebration of the 1886 founding of Ouachita. The goal of this gathering was to honor those who brought the school into existence, as well as celebrate Ouachita's 125th anniversary.
The day's schedule included activities so both alumni and students could get involved. The Blog-A-Thon returned after its debut last year. Current students and alumni are able to write blogs about Ouachita during September and link them to the school's webpage. The committee also is asking everyone to put the Founder's Day blog graphic as his or her profile picture on Facebook to spread the word about the blog event.
Also, people are able to use Twitter as a means to acknowledge the event. This year, a new idea was to use a tweetfall, a live stream of tweets related to the 125th anniversary. The tweetfall was run in Cone Bottoms during Founder's Day.
"I'm excited to see how [the Blog-a-Thon] increases from last year," said Lori Motl, director of admissions counseling. "I want to see a lot more participation this year. I'm excited about the tweetback, to see what kind of neat conversations we can get started about Ouachita."
Part of the commemorative day was the annual convocation chapel in Jones Performing Arts Center (JPAC). Special guests included family members of former Ouachita presidents. A special appearance was made by family members of the university's first president, J. W. Conger.
The service emphasized the school's legacy and academic mission and goals. Afterwards, members of the Ouachita Student Foundation hosted a luncheon and gave campus tours to the special guests.
The Jones Performing Arts Center lobby hosted several displays. The first was a historical display with memorabilia from Ouachita's special collection. The other was promoting the new book, "Ouachita Voices." It was premiered for the first time and was made available for public purchase during the celebration.
The music department presented a Founder's Day Musical Showcase Tuesday night. Groups including Tiger Blast, the jazz band, the Ouachita Sounds, the Ouachita Singers and the saxophone and percussion ensembles performed on stage in Jones Performing Arts Center, along with various solo acts.
The Board of Trustees and Founder's Day committee encouraged everyone to get involved.
"We want the students to be reminded of Ouachita's history, the legacy of those who have worked here in the past, the purposes of the university, to help them understand the work of many people through the years to bring them the educational opportunities that are available here at Ouachita," said Phil Hardin, assistant to the president.