Lady Tigers leave no doubt in 3-0 victory over Arkansas-Monticello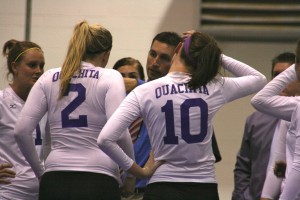 ARKADELPHIA- Ouachita Baptist left no doubt in a 3-0 victory over Arkansas-Monticello, 28-26, 25-10, 25-15, in a Gulf South Conference volleyball matchup in Arkadelphia on Thursday.

Ouachita (13-8, 2-7 GSC West) hit .264 on the night, and ran away with 12-straight points in Game 3, as the Lady Tigers trailed Arkansas Monticello (2-21, 0-8 GSC West) 8-4 to begin the set, but the rally gave Ouachita a 16-8 lead. The rally was a home match season-high for straight points and was highlighted by five kills from Ouachita senior Kaitlyn Mitcham.
Mitcham recorded a match-high nine kills on the evening, while junior teammate Libby Merritt matched Mitcham with nine and had a .562 hitting percentage. Ouachita sophomore Megan Askew added six kills and six blocks, which was good enough for the fourth best individual effort of the season. Sophomores Allison Frizzell (23 digs) and Faith Avalos (six kills), along with the performances from senior Lauren Stuart (15 assists) and junior Lexie Hegi (12 assists) played a major part in the Lady Tigers' victory.
In Game 1, Ouachita held a 21-17 lead, but Arkansas-Monticello rallied back with a pair of kills and service error to make the score, 21-20. After trading points, the Cotton Blossoms gained the lead twice before back-to-back errors put the finishing touches on a 28-26 victory for Ouachita.
In Game 2, the Lady Tigers went up 7-1 via four attack errors by Arkansas-Monticello and a pair of service aces from Hegi and Mitcham. Ouachita extended the lead to 12-4 when freshman Faith Avalos recorded two kills and Stuart added a service ace. The rest of the way saw the Lady Tigers outscore the Cotton Blossoms 13-6 to close out the victory, 25-10.
In Game 3, Arkansas-Monticello began strong with a 7-2 lead. The match moved to 8-4, but the momentum was quickly haulted by the 12-straight point rally, giving the Lady Tigers their second conference victory of the season.
Leading the Cotton Blossoms was Bailie Jedlicka with nine kills, followed by Monica Perkins-Miller with eight, and teammate Stephanie Hatten with 23 digs.
Ouachita Baptist returns to the court on Friday in Searcy against Alabama-Huntsville at 5 p.m. You can follow the match via Live Stats with a link that will be featured on the Ouachita Athletics homepage.