OBU Men's Basketball announces upcoming 2010-11 schedule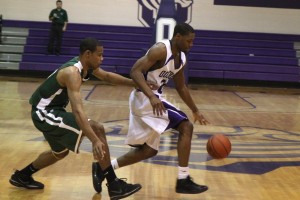 ARKADELPHIA- Ouachita Baptist Director of Athletics David Sharp and Head Men's Basketball Coach Mark Price announced Sept. 15 the release of the upcoming 2010-2011 men's basketball schedule.
"Whenever you play in the Gulf South Conference, your schedule is challenging by default and the GSC will once again be one of the nation's strongest leagues, if not the strongest," Price said. "The non conference portion of the schedule offers its share of excitement as well as it includes three teams that participated in last season's NCAA tournament along with a pair of early exhibition games against well-coached NCAA division I opponents."
The Tigers will open with three-straight home non-conference games, including GSC Crossover games against Alabama-Huntsville on Nov. 18 and North Alabama (Nov. 19), then playing Baptist Bible on Nov. 23. Ouachita will then take road trips to San Antonio, Texas and Dallas, Texas to face Incarnate Word and Dallas Baptist on Nov. 27 and 29.
In the month of December, Ouachita returns to Bill Vining Arena for a pair of matchups with Ecclesia on Dec. 2 and College of the Ozarks on Dec. 9. The Tigers then hit the road to Florence, Ala. to face North Alabama for a second time on Dec. 11, then come back to campus to defend their home court against Lambuth (Dec. 18).
Intriguing Gulf South Conference cross-over matchups with West Georgia and West Alabama on Dec. 30-31 are also among the final stretch of non-conference competition for the Tigers.
To begin GSC play, Ouachita hits the road to kick off the new year, traveling to Harding on Jan. 8 and Delta State (Jan. 13). Ouachita then returns home to face Southern Arkansas and Christian Brothers on Jan. 15 and 20, followed by trips to Monticello to face Arkansas-Monticello (Jan. 22) and across the street for the first installment of the Battle of the Ravine series with Henderson State on Jan. 27. The final game of January matches Ouachita with defending GSC Champion Arkansas Tech at home on Jan. 29.
For the month of February, the Tigers begin the second rotation of GSC play, swapping the locations of each conference opponent from earlier in the season. The season finale puts Ouachita on the road to Russellville to face the Wonder Boys on Feb. 26 to close out the regular season schedule.
"As it is early in our preseason activities, I feel good about the character and energy level of our team. We emphasize effort level with them, and I don't have to fight with these guys much on that particular issue. They are an extremely good group of young men from very good backgrounds."
In his first season on campus, Head Coach Mark Price guided the Tigers to an 8-19 record overall, including a 7-9 record at Bill Vining Arena. Among the returners for Ouachita will be senior Scott Day, who averaged 9.6 points and 4.2 rebounds in 27 games. Junior Julian LaDay rarely left the court for the Tigers last season, averaging a team-high 31.1 minutes/game, while scoring 7.7 points, while also recording team-highs in assists (75) and steals (45). Junior Austin Mitchell provided three-point range for the Tigers off the bench last season, averaging 8 points and shooting 44 percent behind the arc.
The incoming recruiting class undoubtedly filled a major need for Ouachita last season: size. Of the six newcomers, five have heights of 6′4 and above. Among the recruits, are freshman Jaron Vierra (6′6, 195; Forward) of Georgetown, Texas (Georgetown High School), David Day (6′7, 200; Forward) of Highlands Ranch, Col. (Thunder Ridge High School), John Kornet (6′9, 205; Forward) of Lantana, Texas (Liberty Christian Academy), Leith Hobbs (6′8, 200; Forward) of Crown Point, Ind. (Lake Central High School) and sophomore transfer Nigel Ramsey (6′4, 190; Guard) of Birmingham Ala. (Shelton State).
"We have a group of six talented newcomers," Price believes. "I am strongly encouraged that each of our seven returning players are guys that were playing significant roles on our team as we were playing our best basketball down the stretch. Five of those guys were freshmen last year. Hopefully that experience will translate into significant improvement for our program."