By Isaac Bourne, Sports Editor/Staff Writer
August 30, 2023
Football season has again donned upon the humble town of Arkadelphia, and the OBU Tigers suit up for another record-breaking season. Despite the losses of key names such as TJ Cole (All-GAC first team RB and Darren McFadden award winner), Hunter Swboda (All-GAC first team) and Anthony Freeman (All-GAC first team), head coach Todd Knight is optimistic in his team to fill the void, keying in on the leadership from the more experienced players. "I tell [the team] all the time, a coach-led team probably gets beat by a player-led team nine times out of 10," Knight asserted. "I believe that it's not a slogan or a cliche, but I really believe leadership is how you win football games, and I believe we have great leaders."
Offensively, Knight mentioned, there is no player that prepares for the game more than graduate quarterback Riley Harms. "Riley, [is an] an example to all of his coaches, players and everybody on how to prepare for the game."
Harms comes off his first fully-healthy season since 2019. Running back Kendel Givens (2022 All-GAC second team) was quick to praise his QB. "For him to do what he's done in our program has been pretty crazy to watch," Givens articulated.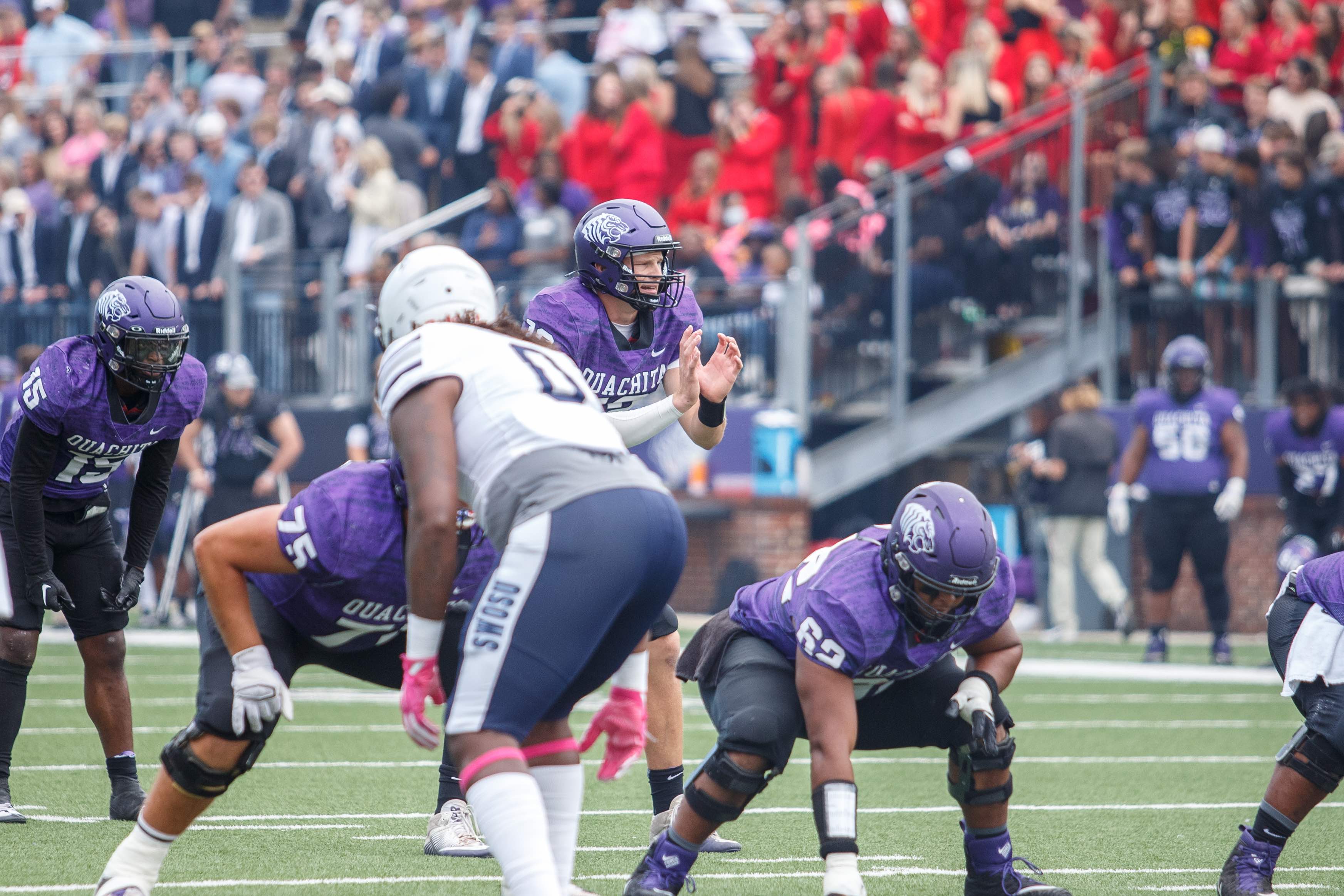 Givens himself is ready to take the reins at running back this season. Leading Division II in touchdowns just a season ago, he is eager to reach that and more this season, now more than just a goal line option for the Tigers.
"It's fun playing more in space," Givens said. "Things get a little more tight on the goal line, your real estate runs out…but playing in space, I love to do that."
Givens is now just 14 touchdowns away from the all-time career record for OBU, and as the lead back this year for the Tigers, nothing is stopping the junior from cementing his own spot in the record books.
Harms and Givens are just two members of the electric offense headed by offensive coordinator Jay Derby. Junior Connor Flanigan (All-GAC second team) returns for another season at wide receiver, and a young-but-experienced offensive line led by All-GAC first team lineman, senior Zac Henson, follows. "Coach Derby does an excellent job of trying to keep our offense balanced, and the goal this year is to be more balanced," Knight explained. "With a young offensive line and the skill-type guys we have on offense, we want to spread the ball around a little bit."
On the defensive side, the Tigers have an elite group of returning linebackers. Junior Jax Miller (All-GAC second team), senior Dawson Miller and senior Trey Proctor all return after spectacular seasons behind the line. On the defensive line, junior Braylen Butler (All-GAC honorable mention team), junior JaRaylon Burks and junior Mikey Gonzalez all return, the final racking up four sacks last season. Finally, graduate student Kenta Jones heads up a talented core of defensive backs featuring junior Josiah Johnson (All-GAC second team safety), senior Dhante Gibson (All-GAC honorable mention team), sophomore Mario Ganter Jr. and junior Trey Proctor.
"We're pretty confident this year," Jax Miller stated. "We've got a lot of guys stepping up…especially on the defensive side of the ball."
The special teams unit also brings back two All-GAC members, with Joe Coach (first team) and Gabe Goodman (All-GAC honorable mention team) returning for yet another season.
As they head to Weatherford, Oklahoma for their season-opener this Thursday, coach Knight is not concerned about his team's readiness. "[Motivating our team] is pretty easy," Knight said.
Ranked number eight in the NCAA's preseason Power 10 for Division II football, the NCAA website states, "What would a Power 10 be without the Tigers?" What would be a Power 10 without the Tigers? Headed into this season, the roster, from top to bottom, has replaced key pieces, leaving the players, coaches and Ouachita fans asking, "What would the playoffs be without the Tigers?"