Ouachita gears up for Fall Tiger Serve Day Sept. 25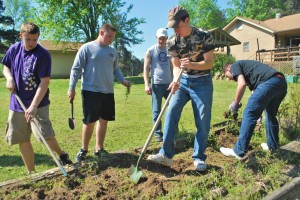 ARKADELPHIA, Ark.—Ouachita Baptist University's Ben M. Elrod Center for Family & Community will host the annual Fall Tiger Serve Day on Saturday, Sept. 25 from 8:30 a.m. to 12 noon. The day's events will start at the Elrod Center with breakfast for volunteers and conclude at the Elrod Center with lunch, provided by Summit Bank.
This is the 14th annual Fall Tiger Serve Day. As the community service event grows each semester, the need for volunteers grows as well.
"We had 707 volunteers for the spring 2010 Tiger Serve Day," said Judy Duvall, assistant director of the Elrod Center. "We had over 100 projects and were able to help a lot of people." Tiger Serve Day teams, which include Ouachita students, faculty and staff, volunteer to do jobs ranging from painting and window washing to raking, mowing and cleaning up yards for families and individuals throughout the area.
"Students have a unique opportunity to get outside the bubble, meet people in the community and meet real needs," Duvall said. "Showing the love of God to individuals in practical ways is certainly a goal of Tiger Serve Day.
"We would like for all of the students, faculty and staff to be involved," Duvall added. "If students don't have a team, they can just sign up and they will be assigned a team and a project. This will be a great way to meet people and form new friendships."
Tiger Serve Day "is a way to give back, to help others, to express thanks and to be a responsible citizen," said Ian Cosh, Ouachita's vice president for community and international engagement.
"Volunteers are also encouraged to form relationships with the individuals they serve and to return to help throughout the semester if help is needed," Duvall noted. "Although the practical help given on Tiger Serve Day is certainly appreciated by the recipients, the day is about more than just completing projects; it is about forming relationships and caring for others."
Tiger Serve Day is organized and run by a student leadership team that includes 18 students who do the publicity, recruitment, visit project sites, buy tools and help generate energy for the day among fellow students.
"They are a remarkable group of students that have a heart to serve and exhibit strong leadership skills," Duvall said.
"Tiger Serve Day is such a great way for Ouachita students to be able to get involved and serve others," said leadership team member Emily Morgan, a junior accounting major from Mountain Home, Ark. "By being on the leadership team, I have the opportunity to help plan and organize the day."
In addition to Morgan, the following students are on the Tiger Serve Day leadership team: John Bacon, a junior Christian missions, Biblical studies and Biblical languages major from Bryant, Ark.; Glenn Bolton, a sophomore church media/production arts major from Hensley, Ark.; Leanne Cushman, a senior Christian ministry and Christian missions major from Springdale, Ark.; Drew Harper, a senior biology major from Sherwood, Ark.; Leigha Hill, a junior communication sciences and disorders major; Lauren Jackson, a sophomore biology major from Arkadelphia, Ark.; Greta James, a senior studio art major from Little Rock, Ark.; Ryan James, a sophomore pre-nursing major from Benton, Ark.; Abbey Jamieson, a sophomore Christian missions and mass communications major from Sachse, Ark.; Caleb Knight, a sophomore Christian theology and Biblical studies major from Arkadelphia, Ark.; Mark Morrison, a senior Christian theology and Biblical studies major from Plano, Texas; Katelyn Mustain, a junior dietetics and nutrition major from Lewisville, Texas; Nate Peace, a junior Christian ministry, Biblical languages and mass communications major from Bedford, Texas; Rebekah Poynor, a sophomore art and secondary education major from Aubrey, Texas; Wendy Vick, a junior biology major from Conway, Ark.; Austin Walker, a senior Biblical studies major from Benton, Ark.; and Devin Waters, a senior mass communications major from Frisco, Texas.
For more information about Tiger Serve Day, contact Judy Duvall at duvallj@obu.edu.