Ouachita Volleyball Downs Rival Reddies of Henderson State, Sweeps Season Series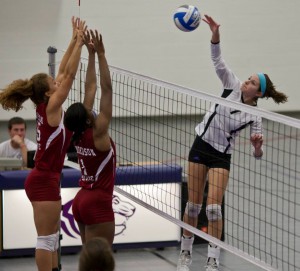 ARKADELPHIA, ARK- The Ouachita Lady Tigers (14-12, 5-7 GAC) volleyball team hosted rival Henderson State (14-12, 5-7 GAC) on Tuesday night, marking their second meeting of the series and a vital game for the Lady Tigers as they try to advance their placement in the Great American Conference Tournament in a couple of weeks. The Lady Reddies wouldn't lay down in the game, forcing Ouachita to a fifth set before the Lady Tigers turned it on and defeated Henderson by a score of 3-2.
The Lady Tigers were led by senior Lexie Hegi and juniors Megan Askew and Allison Frizzell. Hegi finished the game with 48 assists, adding four service aces and 18 digs, as well as two kills. Frizzell continued to lead the Lady Tigers in digs, collecting 23 in the match. Askew was a force to be reckoned with, collecting 16 kills, which she complemented with three digs and three block assists.
The Lady Reddies were led by Ty Lindberg, Lauren Ray and Brooke Walford. Lindberg finished with 17 kills, 20 digs and two block assists, while Ray finished with 22 digs and Walford racked up 33 assists.
The Lady Tigers fell behind early, as Henderson took the first set by a score of 25-18, while collecting 17 kills and only committing six errors. Ouachita would make up for their early blunders in the second set though, as they rebounded, taking it by a final score of 25-18.
Ouachita looked like they were going to win the match 4-1, as they took the third set by a score of 25-22 and then got ahead early in the fourth set, but the Lady Reddies wouldn't go away, taking the fourth set by a score of 25-21.
In the fifth set, the Lady Tigers played their hearts out, only committing three errors en route to a 15-8 set victory and more importantly, a match victory, wrapping up the Battle of the Ravine series with a 2-0 record.
The Lady Tigers return to the court on Friday, when they host Southwestern Oklahoma State at 6 p.m. They will play again on Saturday, when East Central Oklahoma pays a visit to the Lady Tigers for a 1 p.m. showdown.