Tigers power their way to 100-67 victory over Baptist Bible College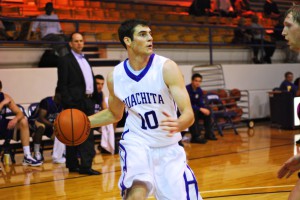 ARKADELPHIA- It was clear from the start that Ouachita Baptist was the stronger opponent, as the Tigers powered their way to a 100-67 victory over Baptist Bible in a non-conference matchup at Bill Vining Arena on Tuesday.

Ouachita (2-1) won the rebound battle 52-30, while also recording a 60-32 halftime lead over Baptist Bible. The Tigers shot 48 percent on the night, making it back-to-back games that Ouachita has shot over 40 percent overall.
It was a particularly good night for sophomore Austin Mitchell, as the Conway native led all scorers with 23 points and nine rebounds. The sophomore recorded a 5-of-11 night from three-point range, while the Tigers shot 40 percent on 16-of-40 attempts. A total of five players recorded double figures in scoring, as seniors Jeremy Banks and Scott Day, along with sophomore Olden Jordan each had 13 points. Sophomore Nigel Ramsey added a double double with 12 points and 12 rebounds in the victory.
For Baptist Bible, AJ Watson recorded 17 points and Kaleb Roy added 15 for the Patriots.
Ouachita Baptist will take a few days off for the Thanksgiving break, before traveling to San Antonio to face Incarnate Word on Nov. 27 at 4 p.m.