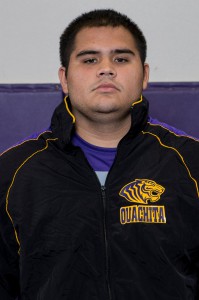 What are your goals for this season?
My goals are to have a winning season, make it to the national tournament and become an All-American.
What's your favorite food?
I love to eat sushi.
What do you do with your spare time?
In my spare time I like to play disc golf with my friends, play "Street Fighter," and just relax and watch TV.
Favorite UFC fighter?
Not GSP. I am a fan of Rampage Jackson, and Cain Velazquez is very entertaining to watch because he is a smaller heavyweight, but he is always grinding his opponents and breaking them, and Johnny Hendricks. I always like to see a fellow Okie doing well.
What are you going to be for Halloween?
I have a couple of luchador masks lying around, so if I'm feeling up to it I may throw one on and ask for candy.
Why wrestling?
One day after football practice freshman year, my coach asked if I wanted to sign up. I was a big fan of mixed martial arts and all of the top guys were wrestlers such as Matt Hughes, so I thought, "Why not?" I haven't looked back since.
What are your future plans after Ouachita?
I am not really sure yet. I would like to try a career in MMA, but I also would like to train other people in weight lifting and wrestling if the opportunity presents itself.
If you could go back in time and give your ten-year-old self advice, what would you say? 
To keep on keeping on. I don't have any regrets and feel like everything I have done has made me who I am to this point, and I am very happy with what I am doing at the moment.