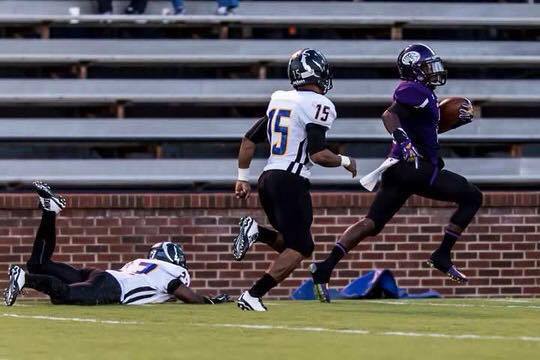 Kris "KO" Oliver, has always been a big football fan.
Even from his early elementary years, Oliver was practicing his skills, running around his two cousins—both of which were three-year starters at Arkadelphia High School, where Oliver played high school football.
"I was around football all the time. My cousins were three year starters at Arkadelphia," Oliver said. "I just kept growing and following them throughout their careers. I've been around football my entire life and I guess that's why I love it so much."
Oliver said that growing up around a family that loves football so much certainly has it's advantages, although his mother finds Oliver, who was a three-sport athlete in high school, as a better basketball player than football player.
"My dad loves that I chose football. My mom tells me that I'm a lot better at basketball, but my dad loves football, so he always wanted me to play football," Oliver said.
Early on in his sophomore year in high school, Oliver switched from cornerback to running back. Before he became a Landers Award finalist, he struggled with size.
"I almost quit my freshman year because I was only about four-foot-ten. My cousins encouraged me to continue working because he knew that I would get bigger," Oliver said.
Oliver did get bigger, and faster—so much so, that he set numerous Arkadelphia High School rushing records and finished as a three-time All-State Selection. But, bigger challenges faced Oliver as he graduated high school.
"I wasn't eligible to play last year, so I had to sit out a year to be eligible to play. It was rough because every school knew about it and I guess Coach [Jay] Derby and Coach [Todd] Knight stuck with me until I was eligible to play," Oliver said.
This year, Oliver stood in the backfield receiving snaps from a high school rival—quarterback Austin Warford.
"My junior year against Malvern, we squared up against Austin. I still like to joke with him about that and tell him how weird it is to be taking handoffs from him," Oliver joked.
He even added that most of his teammates played in Arkansas, with many of those playing for opposing teams.
"There's some guys from Warren that we played against in the playoffs and they knocked us out and they always tell me to get over it when I bring it up," he added, jokingly.
During the start of fall camp, Oliver began splitting snaps with junior Brandon Marks—a player that recorded six yards-per-carry last season. Oliver earned more and more snaps and by the end of fall camp solidified his role in a dual-running back offense that featured him and Marks.
"We're roommates and we really get along well. We love to play videogames and hang out when we have time to," Oliver said.
In his first game as a Tiger, Oliver finished for 100 yards on 22 carries, scoring three touchdowns, including his first one when he busted through the line for a five-yard score.
In his first game at Cliff Harris Stadium at Ouachita, he scored three more touchdowns and recorded 92 yards including a 43-yard touchdown run to start the game.
"There's always pressure going out there and playing," Oliver said. "You never want to let anyone down and you know that everyone is watching you. But, once I get out there, the nerves go down and I just focus on getting the job done."
For Oliver, focusing on holding on to the ball has been a priority this season.
"I think my main goal is working on not fumbling. I've only lost one fumble all season and that was on a punt return, so I want to keep focusing on holding on to the ball every time I get a carry," Oliver said.
For Oliver, though, he knows that above any personal goals that he might have come second to the main goal: "I want to win above anything else. Whether that's 42-0 or 42-41, I want us to win another GAC championship," Oliver added.
Oliver comes back from suffering a minor concussion in last week's loss against Southwestern. He will be expected to play as well as he did in the first two wins against Eastern Central and Southeastern Okla.
So as Oliver continues to do exactly as he has always done—namely, love playing football—he'll know how blessed he is by the opportunity to play college football.
"I tell my mom every night how unreal this feels that I'm getting to play college football," Oliver concluded. "I just know that it's a blessing from God and I'm thankful that I can get up and get better every single day that I'm here at Ouachita."