"Just follow me": Hillary Hill in Zambia
As she listens to the pastor's sermon from Luke 9, Ouachita senior Hillary Hill hears two words loud and clear.
"Follow me."
"Lord, first let me go and bury my father," the pastor reads.
"Follow me."
The pastor continues, "I will follow you, Lord; but first let me go back and say goodbye to my family."
"Hillary, you don't have to do any of that. Just follow me."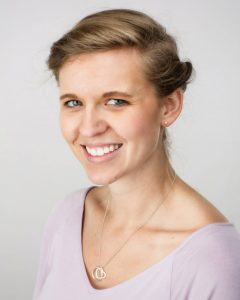 Hill felt this call to the mission field in the fall of 2012, and in the spring, God placed on her heart an orphanage in Zambia, Africa. While she longed to go and serve, the Lord still had more in store for her at Ouachita.
As graduation neared, Hill was asked to fill the position of assistant director of OBU Campus Activities (now called Student Life), a request that she initially turned down. After much prayer and thought, however, she reconsidered.
"I returned to Ouachita right after graduation to work with Campus Activities and Res Life, and every day I fell more in love with OBU," Hill said. "You love OBU as a student, but when you're working here, there's a different sense of love – you get to experience the students' love. I didn't want to leave that, but my heart never quit loving Africa."
Following her first year as a Ouachita staff member, Hill had the opportunity to travel to Zambia for a short-term mission trip hosted by a local missionary family. After briefly tasting the African culture and ministering to the people of Zambia, she fell even more in love with it as a mission field, and she was determined to go back.
"After my third year at Ouachita, the family came state-side and the opportunity to volunteer with them in Zambia opened up," Hill said. "I made my decision to go in December of 2014. It was hard to say goodbye, but I knew that the door was closing here and I was excited to go."
In June of 2015, after five months of fundraising, packing and saying goodbyes, Hill finally arrived in Zambia.
"Follow me."
The two Zambian missionaries and their four children immediately welcomed Hill into their family. In addition to serving the Lord with them, she also enjoyed experiencing the simplicity and intimacy of missionary life.
"Living with three teenage girls and an 11-year-old boy every day was humorous and full of surprises," Hill said. "One time two of the kids and I tried to paint the foyer and stairs down to the living room. And then another time someone left the sink on while the water was off, and when the water came back on, it flooded the master bedroom."
Hill's fondest memories, however, come from the main focus of her missionary work: tutoring the family's adopted Zambian daughter, and teaching her how to read. The family took her in from a past characterized by physical, mental and emotional neglect, and it was because of this that she had been pulled out of school.
"When you don't have that necessary love and care, your mental processes don't work correctly," Hill said.
Hill began teaching their daughter in July. There was one problem, however: Hill struggles with dysgraphia.
"Dyslexia is where you get your letters mixed up, but with dysgraphia, I sometimes leave whole words out of text messages or papers because my brain puts them there," Hill said. "Reading was also a huge issue for me. I never understood how people could want to do it for leisure. Because of this, school had always been a challenge for me, so I knew I was never going to be a teacher."
"Follow me."
Despite the daughter's fluency speaking English, Hill had to start with the basics to teach her how to read the language as well. They began with the ABCs, followed by basic sounds and words. She was a quick learner, and within nine months she finished her first book.
"On April 27, 2016, their daughter completed 'Matilda.' She would read to me and I would start bawling because I knew that God did that. He helped me teach her how to read and it was really awesome to have him shine through my weakness," Hill said.
In addition to tutoring, Hill also worked with the Baptist Global Relief (BGR) buckets ministry. She and the family would take five-gallon buckets, which were filled with supplies such as clean sheets, towels, soap and lip balm, to Zambian AIDS patients. Due to the abundance of these patients, they gave the buckets only to those who were close to death, in an attempt to make their final days, weeks or months more meaningful.
"We went and met their spiritual needs by sharing with them the story of the prodigal son, after which we gave them the opportunity to accept Christ," Hill said. "In their culture, you are obligated to please your guests, meaning that if we were there to offer the Gospel, the patients were going to accept it. So, our goal was to help them understand that Jesus is the only way, the only truth."
According to Hill, the biggest blessing from a BGR bucket is not its contents, but the bucket itself.
"The daughter of our cleaning lady would travel two to three miles seven times each day to get water," Hill said. "This five-gallon bucket gave Zambians fewer trips or the opportunity to store water, in addition to the extra blessings inside of the bucket."
"To most of us in America, clean sheets, towels and cleaning supplies are no big deal, but they cried over these things," Hill said. "Sometimes these buckets caused a life change. Other times it was the fact that they now had a toothbrush and Colgate and they could brush their teeth. They live so simply, whereas we have so much."
Hill's 14 months in Zambia not only provided renewed perspective, but they also enriched her spiritual life. The family taught her how to persevere during tough times, how to not get discouraged and how to be filled by her quiet time with the Lord. The slower pace and the minimal attention given to time in Zambia also contributed to her spiritual growth.
"When we are overseas, life isn't as fast paced as in America. African time is very different. Events and meetings will just start whenever. With this type of mentality, people have time to listen and experience God on a level many of us don't stop to experience," Hill said.
Above all, Hill gained a new family during her time overseas, one with whom she sadly had to part ways when her dad and brother came to visit and take her home in July.
"I'm not sure if knowing the date when I would leave made it harder or easier. My Zambian friends were non-Christians, but they were my world and saying goodbye to them was difficult," Hill said. "I was living in a house with four kids and a great friend and sister in their mom. She, their dad and the kids opened their home to me, and taught me what it was like to be a missionary and to go without. They are family to me," Hill said.
Even more tears were shed between Hill and her American family after arriving back in the states. She has spent the past few months visiting with old friends in an attempt to catch up on life back in America.
"I missed weddings. I missed my friends' junior and senior years of college, all the little moments. A camera can only pick up so much," Hill said.
In addition to this, Hill has been working with sixth and seventh grade girls at her church, assisting with planning for next year's Amplify – a free Christian concert in Benton, Ark. – and enjoying quality time with her family.
"It's been eight years since I've been home, so having a second chance to live with my family has been cool," Hill said. "There's no long-term plan right now. It's just day-to-day. 'OK God, what's next?'"
And from experience, Hill knows that the answer to that question will always be…
"Follow me."
 On behalf of Zambia, Hill sends this message to the Ouachita community: "Zambia went through a drought from November 2015-February 2016 and they really need rain this season. They depend on it to generate their power and for water, bathing and washing. Join with me in praying for sufficient rainfall."
By: Evan Wheatley, features editor