By Kaelin Clay, Online Editor-in-Chief
October 26, 2023
A typical day on Ouachita's campus does not involve a line of legislators making their way into its conference center, but a recent one did, deeming it an important day for Ouachita. The Arkansas State Legislature's Subcommittee on Higher Education, co-chaired by Rep. Charlene Fite and Sen. Dan Sullivan, convened in Walker Conference Center on Monday, Oct. 23. The subcommittee heard from presenters representing K-12 school districts and university education departments from across the state of Arkansas testifying on behalf of Professional Learning Communities (PLC).
PLC is a collaborative effort of alignment amongst educators on every level of the education system that came into play in Arkansas in 2016. At work, it centers around three main ideas:
Focus on learning.
Build a collaborative culture.
Focus on results.
To achieve their primary goals, educators first achieve common ground by answering four questions:
What do we want our students to know and be able to do?
How will we know if they learn it?
How will we respond when some students do not learn?
How will we extend the learning for students who are already proficient?
The focus of the meeting was a panel of presenters from University of Arkansas-Fort Smith, Ouachita Baptist University, Arkadelphia Public Schools, Helena-West Helena School District, Henderson State University and Southern Arkansas University who passionately discussed proficient results affirmed by data collection. Dr. Jeff Root, Ouachita Dean of the Schools of Education and Humanities, delivered results of the initiative, alongside Nikki Thomas, Superintendent of Arkadelphia Public Schools, on behalf of Ouachita and its PLC partnership with Arkadelphia Public Schools. Root commented on the backbone of his presentation, that very partnership, and he gave a nod to the experience that the partnership gifts education majors with.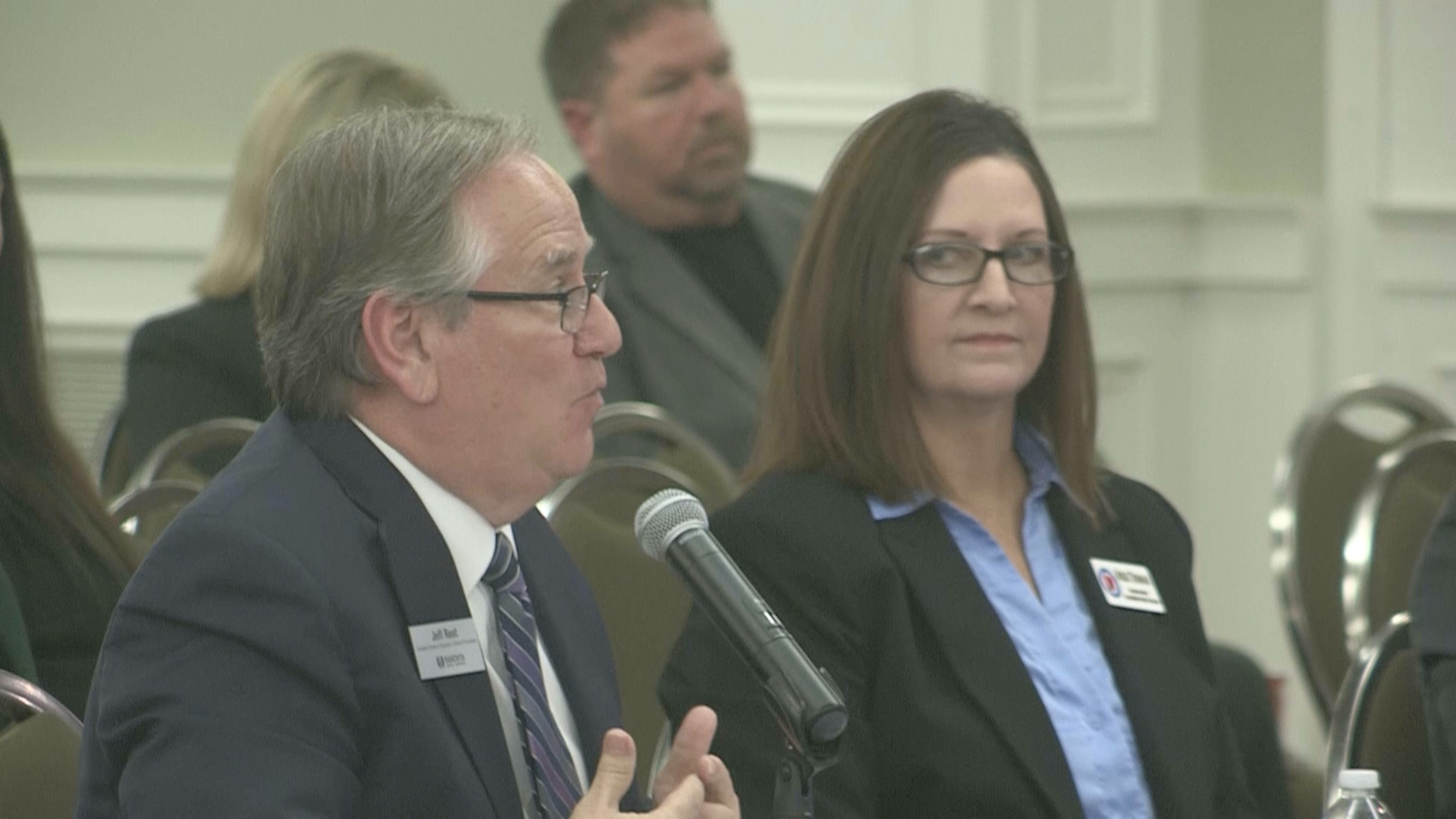 "Right now, Arkadelphia Public Schools are going through a process in which they're chosen by the state to really focus on PLCs," Root said. "So, we want to partner with them, as we always have, and in doing so through a PLC, it's going to better prepare our students when they observe in Arkadelphia and also when they have the opportunity to student teach in Arkadelphia."
From a higher education standpoint, partnerships like this one are essential in the curation of a PLC. Through a partnership, students observe, reflect, interview, student teach and develop a portfolio. While presenting, Root expressed that the elements of a PLC partnership allow aspiring teachers to be day-one ready when they accept their first full-time teaching position.
"You and I both know that nobody has the best day of their career on their first day," Root said. "Your first day in your career is not the best day of your entire career… Yet, you can be day-one ready and be ready to take over a classroom and make it your classroom."
In return, the connection to higher education strengthens the quality of education in the K-12 levels. Before legislators asked a series of questions, Robyn Dawson of the University of Arkansas at Fort Smith, offered her gratitude for the legislature's past support. Harping on the diligent work consistently needed, she rounded out the series of presentations.
"This is not a program that comes and goes," Dawson said. "It's a way of thinking; it's a way of working; it's a way of believing. And guess what? It's work, but it's the right work. So, thank you for what you did so long ago and what you continue to do."
Dr. Missy Walley, director of special projects for the Arkansas Department of Education Division of Elementary and Secondary Education, was in attendance with hope for the future of PLC. She highlighted the magnitude of PLC's impact.
"I think it's pretty impactful, and I'm not for sure people understand the impactfulness of this," Walley said. "We are the only state in the nation who has a state initiative that's working this way within a professional learning community but also embedding and having those partnerships with higher ed, with our educational service cooperatives [and] with our education renewal zones, that we're bringing everybody to the table, and we're aligning the work… and to have higher ed sit at that table today and talk about how we're not only just preparing teacher candidates for ed prep, but we're also preparing our principals and superintendents when they get into the school system to lead in a professional learning community."
Several legislators commented that they were pleased to have the meeting at Ouachita. For some, it was their first visit to campus. "It's rare for Ouachita to have a chance to host a committee meeting from the state legislature," Root said. "And so, we were very pleased when the State Department of Education asked if we would be interested in it."
The word "rare" encapsulates the occurrence of the meeting. It is rare for Arkansas to have a professionally developed partnership system of PLC, and it is rare for Ouachita to host members of the Senate and House of Representatives. However, these were two things that unfolded right before the eyes of Arkansans. Because of Ouachita's willingness to open its doors, key conversations of collaboration created milestones in more ways than one.