By: Matthew Cheatham, Staff Writer
April 12, 2023
The day after a series of severe tornadoes caused extensive damage through seven midwest and southern states, Ouachita students, faculty and staff participated in the previously scheduled biannual Tiger Serve Day. Being an important part of Ouachita Baptist's culture since its beginning in the spring of 1997, TSD sees OBU students, staff and faculty serve the community of Arkadelphia, Arkansas. In total, over 100,000 hours of service in the community have come from TSD. In addition to a TSD in the fall, the spring format is organized similarly. Sodexo caters breakfast for servants as an option before teams head to their destinations, returning typically around noon for a typical three hours of work. Lunch is also served afterward at the same location, typically held across the street from the Elrod Center and behind the Maddox Hall parking lot. Teams typically consist of six to ten people, with the amount of teams dependent on the number of requests that the community has.
Isabella Bejarano, a junior elementary education major, was integral to the organization of Tiger Serve Day, serving as its project chair, and knows how unique it is. "I had never been a part of a school or university that all gets together to serve their community on a specific day, and it is so special that we get to do this," Bejarano said. "I just think it creates such a special connection to our community and allows us to escape the 'Ouachita bubble' in a way that impacts lives. I also think it's so special that on the eve of Tiger Serve Day, we had a tornado warning because the first Tiger Serve Day in 1997 started as a response to a tornado that really impacted the community. We hope that the spirit of responding to the needs of others with the love of God, focusing on both their physical and relational needs."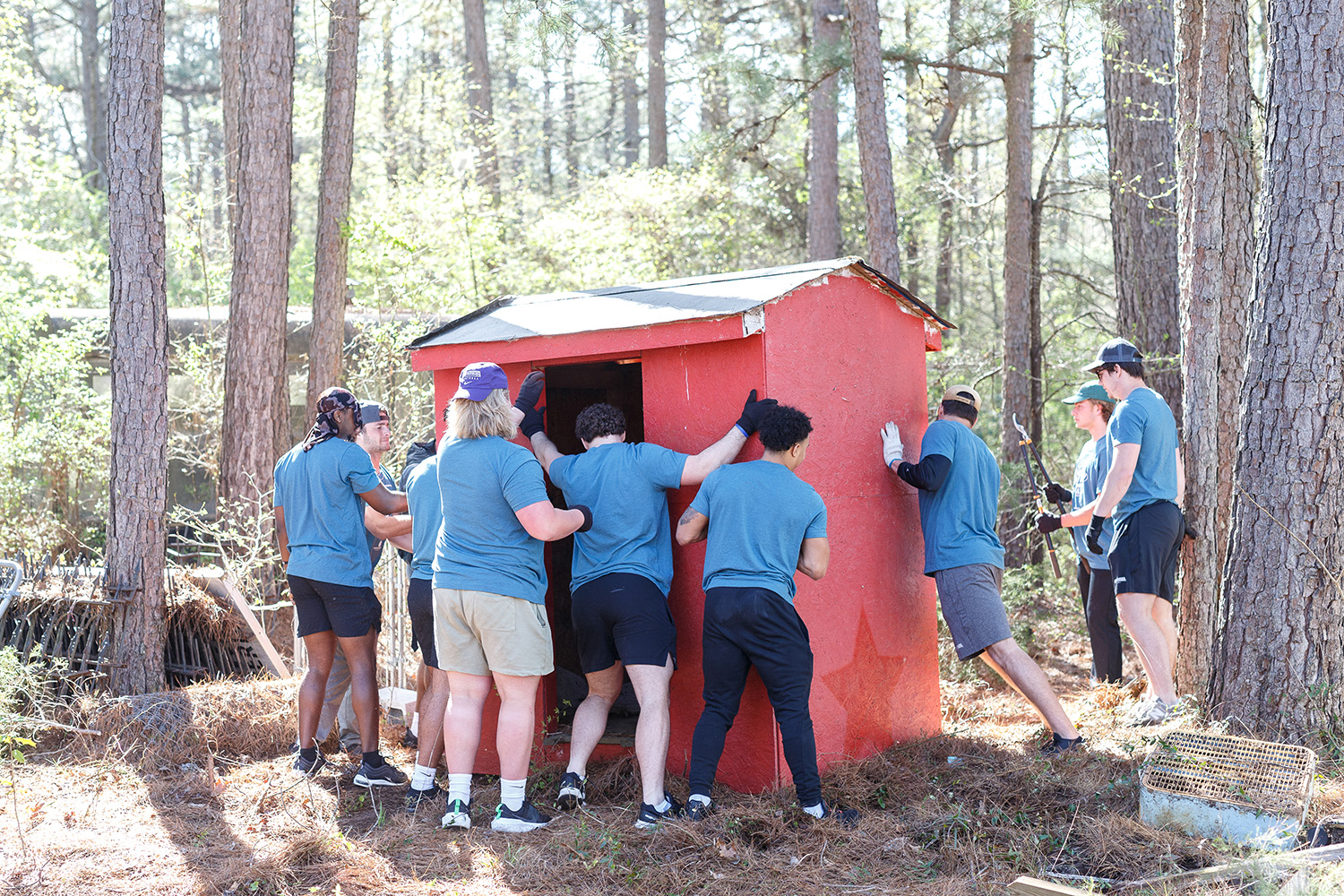 This year, 613 students, faculty and staff divided up into 80 teams to serve the community in various forms of projects. The largest project was the French house, where many members of the football team weedeated, mowed, raked, took down a treehouse, built a greenhouse,trimmed shrubs, and hauled off various items.. Nonprofits that TSD was able to serve included The Plaza, Percy and Donna Malone Child Safety Center and Lighthouse Ministries, each playing an important role in the community in various aspects. The Plaza provides assisted living with 24/7 care, the Percy and Donna Malone Child Safety Center provides a wide range of free services for child abuse victims and Lighthouse Ministries serving as a food distribution center, expectant mother services and thrift store.
The Spring 2023 Tiger Serve Day Leadership Team consists of Cabb Batson, Kelsey Bester, Bella Blankenship, Emma Bynum, Coleman Callan, Isabella Bejarano, Mallorie Carozza, Mika Celicourt, Isaac Crow, Levi Dade, Andrew Ellis, Kris Garcia, Valeria Gomez, Allie Graves, Kassidy Gray, Wes Guerra, Wyatt House, Seth Hunter, Conner Jacobs, Colson McKinney, Jill Parsons, Hannah Rossell, Noah Sanders, JD Scott, Julia Shands, Kallen Smith, Alyssa Strauss, William White and Wade Wilson. It is headed by Elrod Center director Judy Duvall and associate director Leigh Anne McKinney.
Tiger Serve Day is a great force of action that allows OBU students, staff and faculty to actively serve in broader-scale projects. Lowering themselves and exalting others, Jesus is shown and the love of God is personified into loving His people. It is also a great reminder that we should have an active servant's heart and live our lives constantly with a love for others because of a love for God.