Seabaugh sisterhood continues through the Women of EEE
Gracen Seabaugh, a freshmen Elementary Education major from Magnolia, Ark., followed in her sister's footsteps and pledged EEE this past week.
Seabaugh's sister, Shelby, passed away unexpectedly in March of 2014, during her junior year at Ouachita.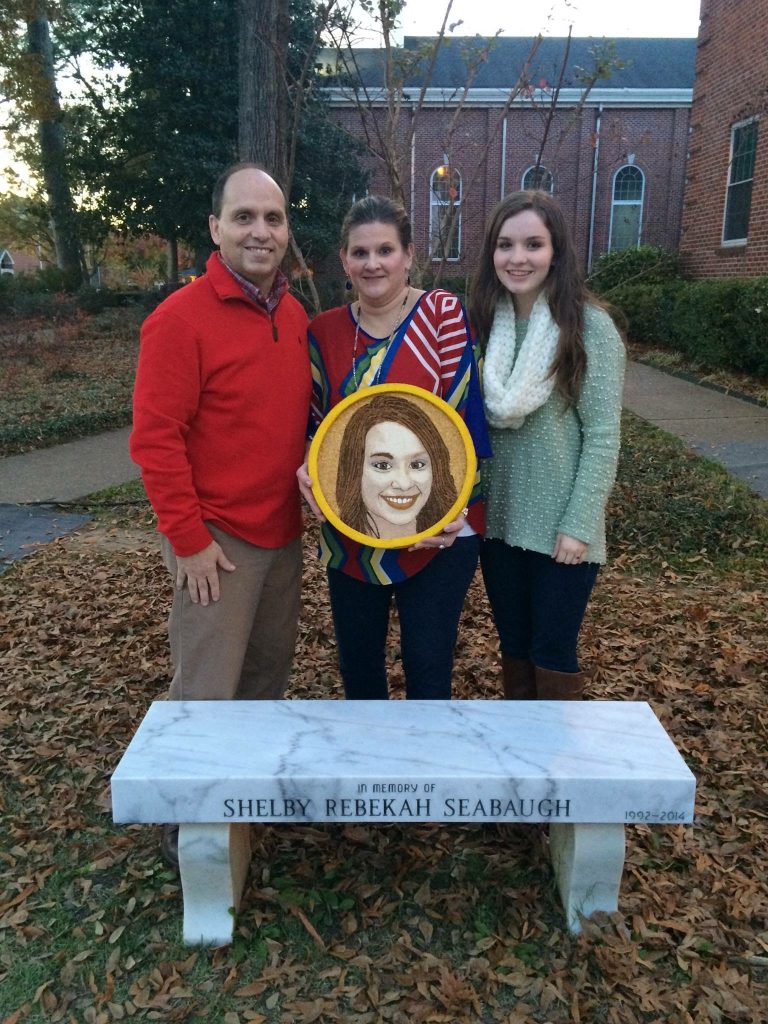 After receiving an EEE sweatshirt from her sister in seventh grade, and seeing her sister perform in the gnomes Tiger Tunes show, and direct the sheep show the next year, Seabaugh has waited expectantly for her chance to join the sisterhood.
Seabaugh knew even more so that she wanted to be an EEE after her sister passed away. She saw firsthand how this club rallied around her and her family with love, support and encouragement during their darkest days.
Shelby's EEE sisters gave Gracen lots of EEE shirts, a necklace with Psalm 23, the verse used in Shelby's sheep show, and Shelby's initials on it. They also sent Gracen flowers on her first birthday without her sister.
"I still feel that same love and encouragement from the EEEs that are here now," Seabaugh said.
"After Shelby died," she said, "I was like 'okay. I don't have my sister here on earth with me anymore, but, in just a few years I'm going to have so many sisters.'"
Every year on bid day, she has looked at the new pledge class (PC) of EEE, wondering what they are like, hoping she would fit in well, and find her home with them soon. Now that she is at Ouachita and in EEE, she said she can see God's faithfulness and provision throughout this journey.
"I just feel like I wake up every day and start thinking about it, and I just can't believe it!" Seabaugh said. "I had high expectations for it, and I have not been disappointed. He just really blessed me with the girls that He put in the club right now."
EEE sisterhood is one that reaches across generations, and Seabaugh found that to be true once again as three of Shelby's best friends and EEE pledge sisters showed up to surprise Gracen for bid day.
After pref. night, Seabaugh and some friends made a quick trip to Walmart to get some food before their busy week coming up. She received a phone call from one of Shelby's friends, Micale Kocke Goodhart, EEE PC'12, asking where she was. She was confused and replied, "uhhhh Walmart…?" Goodhart told her she should probably head back to her dorm.
When Seabaugh got there, she noticed the light in the bathroom was on. Then Goodhart, along with Aaryn Elliott Whitney, both from PC'12, popped out and surprised her. Taylor Wentz Burgess joined them the next morning for bid day.
Many of them had visited OBU for Tiger Tunes this past semester, and had discussed possibly coming back to Ouachita to see Gracen on Bid Day, to celebrate this special day with her.
"It was so special that they would even think about coming," Seabaugh said. "They are all so dear to me."
Being on campus is where Seabaugh feels closest to her sister. First as a student, and now a member of The Women of EEE, she now gets to share in some of Shelby's favorite things.
"Ouachita is really where I feel the closest to Shelby. It's where she grew the most spiritually. I almost feel like I'm going through it with her," Seabaugh said. "It's incredible, honestly. Finally becoming an EEE like she was, it gives me a level of closeness to her that I don' think I would have had otherwise," Seabaugh added.
When the club circled up on bid day to sing the EEE song around the new pledge class, Seabaugh could not hold back the tears. As she stood there listening to the words she had heard sung around her sister at her funeral, everything came full circle.
Being a new member of The Women of EEE is very special to Seabaugh for many reasons, but she is most looking forward to the life-long friendships and sisterhood that she has found within the club. She is also thrilled to get to participate in EEE Tiger Tunes shows.
"I've been ready for that for a long time," Seabaugh said.
There is no doubt that, Gracen will carry on the Seabaugh legacy with pride and joy as 'it just keeps getting better.'
By Katie Jo Henley, staff writer