#TowerPower: Giving Praise Day by Day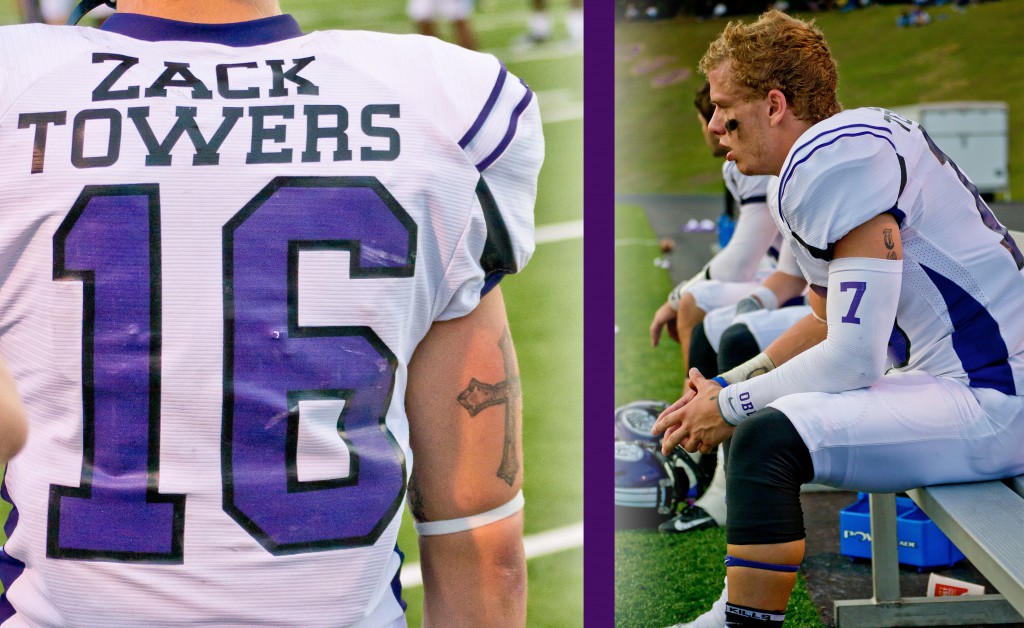 #PrayForZack. #ZT16. #TowerPower.
Chances are, if you are a Ouachita student and you use Twitter, you have seen one or a combination of these hashtags. You have been asked to pray for Zack. You might be one of the 2,511 people following @prayforzack on Twitter. Maybe you're even one of the 15,093 to like "Prayers for Zack Towers" on Facebook.
On Thursday, Nov. 1, in Star City, tragedy struck. It was the night that Zack Towers, brother of Ouachita quarterback Ty Towers, would be injured during his senior night high school football game, an injury that would result in a coma that will have lasted almost 15 days by the time you are reading these words.
Ty Towers is a sophomore Business major from Star City. Before the news of his brother's injury this semester, he was making adjustments on the football field. Recently, Ty has been trying to change pace from playing wide receiver for the Tigers to helping to lead the field as second-string quarterback after injuries sustained by Casey Cooper in game one and Benson Jordan in game four.
"In high school, I played quarterback for three years," Ty said. "After Casey and Benson got hurt, we just didn't have any other quarterbacks. So I just kind of got thrown in there, but it's nice being back in it."
A little over a month after Jordan's injury that would call Ty to the quarterback line of scrimmage, Ty would have another juggling ball thrown his way. He found out that his younger brother was unresponsive from a football injury during his senior night football game 89 miles away.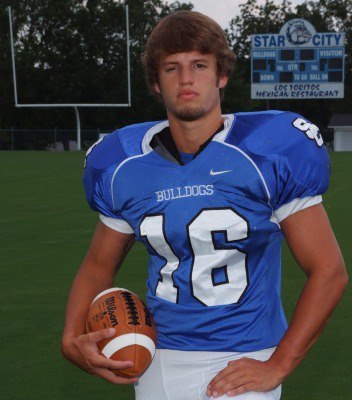 Almost overnight, through coverage from the media, social media and word of mouth, the popularity of Zack's story skyrocketed.
"He has lots of friends. He's a very likeable guy," Ty said of Zack. "It being his senior year on senior night at a football game… It's just a devastating injury. "
Ty says he and his family are extremely thankful for all of the encouragement and prayers that have already come their way.
"It's made it easier. Obviously it's tough still," he said. "But I just want to say thank you to everyone. And just keep praying until he's out of that bed. I believe that's what's making him get better is all of the prayers."
Ty recalls the overwhelming sight of walking into Ty's room at Arkansas Children's Hospital (ACH) in Little Rock with a sense of amazement and a trace of disbelief.
"There's posters and cards and stuff everywhere. He has two big walls of windows and the windows are just covered in posters and blankets and footballs that other high schools have signed and brought up there," Ty said. "It's just crazy how much love he is getting, especially from some of our biggest rival teams. Even they have come up there and seen him. It's pretty cool."
In addition to being supported by rival teams and covered by news outlets across the country, Zach's story has made its way to Philadelphia Eagles' defensive tackle, Cedric Thornton, a Star City native.
"He said he was going to play for Zach and he wrote "ZT16" on his gloves and he asked his entire team to pray," Ty said.
Taking it one step further, the entire Ouachita football team played for Zack at last weekend's Battle of the Ravine game at Henderson State University, sporting Zack's jersey number, 16, on all the player's helmets.
The team's measures of going above and beyond to support Zack were a surprise to Ty when he arrived at the locker room on game day.
"I asked if I could wear Zack's jersey number, 16, instead of my number, which is seven. I had no idea they were going to put his name on the back or that we were all going to wear his number on the side of our helmets. That was a total surprise," he said. "I don't know how to describe it. I was just honored that our entire team was going to play for him. They didn't even know him until this happened. So for my entire team to come together and play for him… That was cool."
Zack's story of hope has brought more than just the Ouachita football team together. Ty's parents say that friends and family that haven't talked in years are talking to each other again because of everything that is happening.
"My dad says this is bigger than us. He says God is using Zack," Ty said.
One of the most incredible ways God is using Zack is to bring others to Himself.
"There have been numerous people that have said they have been saved because of this," Ty said. "He's just impacted so many lives."
In addition to impacting the lives of total strangers, these past two weeks have affected the way Ty values his day-to-day life and relationships.
"We hardly ever talked because he's playing football, I'm playing football and we're both going to school. We would text every now and then, but I hadn't seen him in two months and now I'm thinking about how we haven't talked," Ty said. "It just teaches you that if you love someone, you need to tell them. That's what it's really shown me: to not take anything for granted."
The Towers family is learning this lesson daily as they look for ways to constantly give praise back to God for every improvement Zack has made thus far.
"He was supposed to die the next night and he's still here and it's been two weeks," Ty said. "My parents just called me and said he's been taken off the ventilator and said he's breathing on his own. That's a huge deal. That, in and of itself, is a miracle. We're just seeing the power of God."
Over these past two weeks, Ty has been committed to spending time with Zack and his family at ACH.
"I go up there at least every other day. Mom says I need to chill because I'm using a whole bunch of gas," he said with a smile.
With football season over, Ty has been able to make more time to focus on Zack and his family.
"Doctors pretty much have given us no hope whatsoever, so it's all strictly a God and a prayer thing right now," he said. "Day by day, we are giving praise for every improvement he does make."
Lucky for the Towers family, Zack has an excellent track record when it comes to making improvements in the face of serious medical turmoil. At just four months of age, Zack looked death in the eye and through the grace of God, lived to tell the tale.
"He has already beaten this type of thing once," Ty said nonchalantly.
When he was just four months old, fluid mysteriously came onto Zack's brain. After his grandma came for a visit and pointed out Zack's head looked larger than normal, he was taken to the doctor and had a CAT scan.
After finding the large amount of fluid in his brain, a shunt was put in, but it wasn't working properly. After trying to keep the shunt from getting clogged multiple times, the doctors told Zack's parents there was nothing else they could do.
"My parents just took him home because they said he would either be a vegetable by the age of three or dead, pretty much," Ty said. "A couple days after they brought him home, the fluid was gone, and it hasn't come back since."
Ty says this is the reason his parents are so confident about Zack's situation.
"They said they have already heard doctors telling us that he is going to die and there's no hope. So, now they don't put any worry into what the doctors say because they've already heard it once before," he said.
Although doctors aren't necessarily giving hope, they are beginning to realize something is different about Zack, and Ty believes they are seeing a higher power working through him.
"I think everyone just wants to see him win," Ty said.
Zack's neurologist told his mom of his minor improvements in motion and brain function, "It may be a one percent improvement, but if he improves one percent for 100 days, then that's one hundred percent."
Though Zack's story and the fight by him and his supporters has already proved miraculous, Ty believes the effect of his brother has only just scratched the surface.
"It's going to be a heck of a testimony," he said, with a look of confidence in his eyes and an air of comfort and peace about him. With more than 17,000 supporters and countless prayers to date, he knows that God is in control.
Editor-in-Chief Tanner Ward, Features Editor Emily Terry and Sports Editor Chelsea Byers contributed to this report.